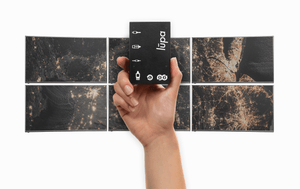 Loop & Sync Video. Finally.
For Everyone.
No Experience Required.
Lūpa is the ultimate media player for people who need a simple but powerful solution to single-channel video playback and multi-channel video syncing.

Lūpa is designed for art galleries, museums, exhibitions, trade shows, retail stores or any place you require a simple video playback system for your screens, televisions or projectors.
Loop Mode.
Turn On, Loop Forever.
It should have always been this simple. Just insert a USB drive with your video into the LOOP port and turn on. Lūpa will automatically find your video and play it continuously until you turn it off.
No more menus, remotes, keyboards or distracting loading icons when your video loops.
Sync Mode.
A Game Changer.
It couldn't be easier. Lūpa requires no setup, just insert your USB drive into the SYNC Port.
Lūpa will automatically find any other players it's connected to via its network cable then play and continuously loop its video, in sync, with the other Lūpa's. All you need is one Lūpa per display or screen and connect them all to a newtork switch or router! 
It's seriously that simple. Plug it in and it synchronises multiple videos on multiple monitors or projectors, easy.
HD or SD.
Lūpa Does It All.
Lūpa is designed to playback H.264 MP4 videos as well as a variety of image formats. It supports files of any length or data size, so there is no limit to the length of video you can play.
It outputs crystal clear high definition video from its HDMI port, or standard definition video for older devices from its analogue port.
Magnets Make It Easy.
Lūpa was designed to save you time and be installed fast. Magnets embedded in the 3D printed case allow you to attach Lūpa to any metal surface behind your display device.
It's rock solid, so you can put away the gaffer tape.
The Power of USB.
You can power Lūpa through a USB port built into your projector or display using Lūpa's microUSB power input. Think about it, just one power cable going to your display device is enough to also use Lūpa.

If you power Lūpa this way it will automatically switch on and off when your projector or display does. Your daily routine just got a whole lot easier.
Professional Audio.
We Hear You.
You won't be playing guessing games with ports again. Lūpa always outputs stereo audio from its 3.5mm analogue port and digital audio via it's HDMI port, at the same time.
Whether your display has its own speakers, or you want to plug some into Lūpa, you will always be ready.
Need Help?
Hold Our Hand.
Something not right? No worries. Lūpa will warn you about a problem and give you the solution to fix it, right on the screen in front of you.
Whether you have an incorrectly formatted video, a cable not connected, or a USB drive that can't be read, Lūpa's intelligent onscreen help will identify the problem and save the day.
David Greenhalgh
"Lūpa is brilliant - it plugged in and it played. It had none of the tedious issues that most other media players have"
The Eyes of the Power Company, 2017-18.
Digital video collage of Public Domain materials, 9:16 aspect, HD(ish) video.
Kuba Dorabialski
"As a video artist and gallery install tech, I've used just about every system for video playback out there, and none are as simple, easy to use and trouble free as Lūpa. I can't recommend it enough!"
Invocation Trilogy #2: SEVEN REVISIONISTS, 2018.
Single channel video with stereo sound, Pan-Slavic ficto-language with English subtitles, 21:29.
Baden Pailthorpe
"Using Lūpa was easy, reliable and stress free - everything you want in an install!"
Clanger (longitude, latitude, velocity), 2018.
36-channel video installation.
Courtesy the artist and Sullivan+Strumpf.
#PoweredByLupa